Friends of Hakalau Forest National Wildlife Refuge
A nonprofit devoted to conserving the unique flora and fauna of Hawai'i Island
Hakalau Forest National Wildlife Refuge, established in 1985 by the U.S. Fish and Wildlife Service, consists of two distinct parcels. The Hakalau Forest Unit is a 32,830 acre parcel on the windward slopes of Mauna Kea on Hawai'i Island. In 1997 the U.S. Fish and Wildlife Service purchased 5,300 acres south of Kailua-Kona, on the slopes of Mauna Loa, which became the Kona Forest Unit. In 2019, an additional 10,000 acres were added to the Kona Unit through the purchase of McCandless Ranch lands that are adjacent to the original parcel, making the total acreage for the Kona Forest Unit 15,448 acres.
The higher elevation Hakalau Forest Unit contains some of the finest remaining stands of native montane rain forest in Hawai'i and habitat for 29 critically endangered species including seven birds, one insect, one mammal and 20 plants found nowhere else in the world. Currently, it is the only place in Hawai'i where native forest bird populations are stable or increasing.
The lower elevation Kona Forest Unit is predominantly 'ōhi'a (Metrosideros polymorpha) trees with an understory of nonnative trees and shrubs and home to a number of endangered birds, plants and one insect. This area was home to the last wild pair of ʻalalā (Corvus hawaiiensis) in 2002. The primary purpose of this unit is to protect, conserve and manage this native forest for threatened or endangered species.
FRIENDS OF HAKALAU FOREST NATIONAL WILDLIFE REFUGE SETS GOAL OF $300,000 FOR 2023 FALL ENDOWMENT CAMPAIGN
2023 is the year of the `I`iwi.
Endangered Hawaiian birds, including the `I`iwi, have a future if we can build the resources to assist in the critical management that must be done to restore and maintain healthy habitat in the koa-ohia forests of the Hakalau Forest National Wildlife Refuge.
The `I`iwi was listed as threatened under the Endangered Species Act in 2017. Once found abundantly in native forests from upper elevations to sea level, the bright red `I`iwi, one of Hawai`i's iconic honeycreepers, is now restricted to high-elevation forested areas, including the Hakalau Forest National Wildlife Refuge, due to mosquito-borne diseases including avian malaria and other factors.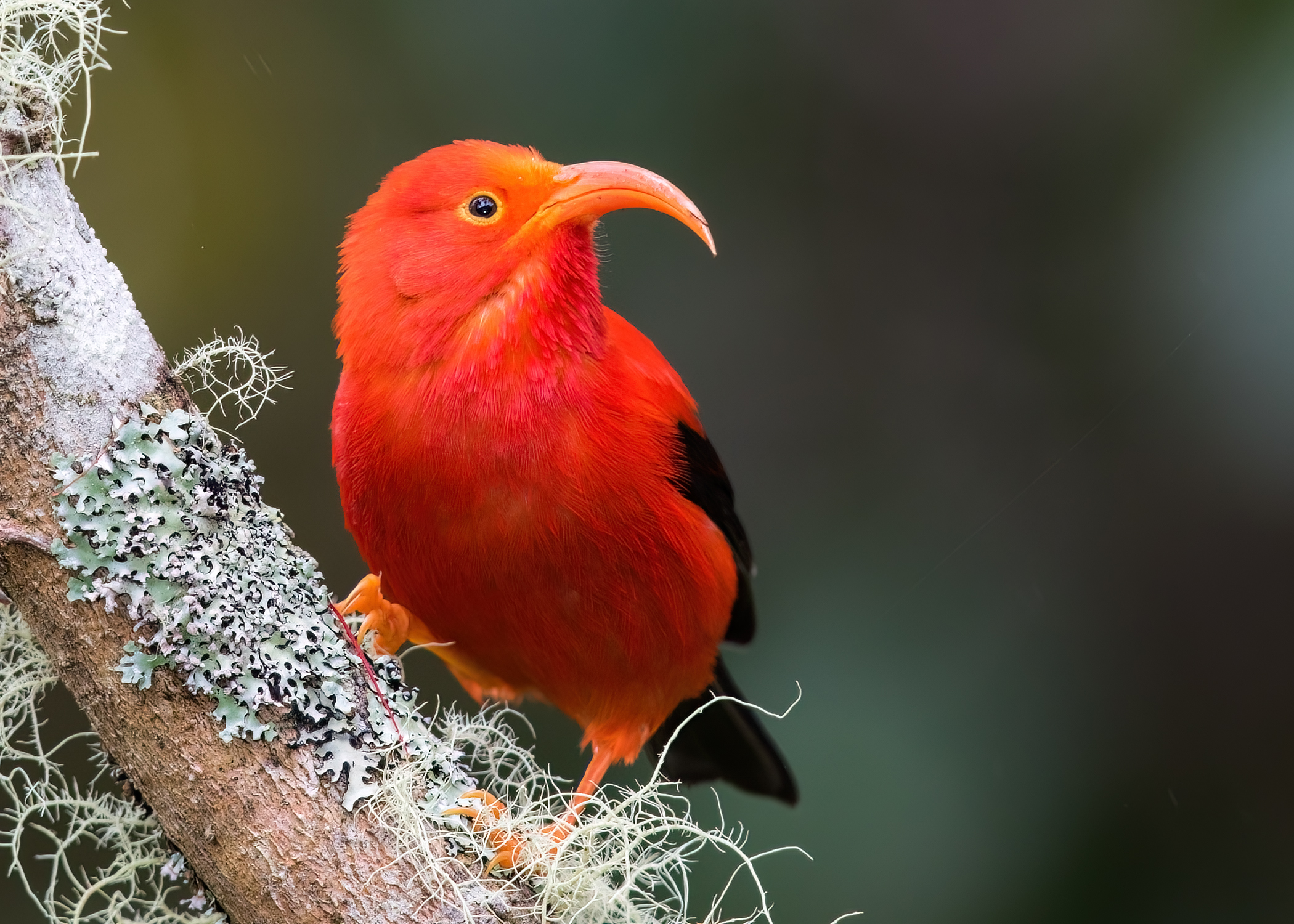 The Friends of Hakalau Forest National Wildlife Refuge Board established an endowment fund in 2015 with the goal of raising $3.5 million. A stable and robust endowment, managed by the Hawaii Community Foundation, is essential to provide a reliable source of funds for the foreseeable future to support the many necessary conservation activities on and around the National Wildlife Refuge.
With your help, the Endowment passed $1,000,000 at the end of 2022. Your gift now can help us reach this year's goal of $1.3 million!
While ambitious, this goal is possible through the generous donations of our Friends' membership and many other interested parties who see the value in saving endangered Hawaiian birds.
We welcome your contribution to the Endowment (you can donate anonymously if you wish). Please click on the button to access Hawai'i Community Foundation's secure website
For more information about Hakalau Forest NWR, visit:
The Friends of Hakalau Forest is a group of hardworking, hands-on committed volunteers and donors who share a passion for supporting the Refuge. When you join the Friends group you become one of nature's heroes on Hawai'i Island. Feel good about protecting our native forests, and critically endangered birds and plants.
Help establish an endowment to permanently protect the Refuge.
The Friends of Hakalau Forest National Wildlife Refuge sets a goal of $300,000 for the Fall 2023 Endowment Campaign.
Recent Hakalau Forest Research Papers
Rapid colonization of a Hawaiian restoration forest by a diverse avian community
Eben H. Paxton, Stephanie G. Yelenik, Tracy E. Borneman, Eli T. Rose, Richard J. Camp, Steve J. Kendall
Deforestation of tropical forests has led to widespread loss and extirpation of forest bird species around the world, including the Hawaiian Islands which have experienced a dramatic loss of forests over the last 200–800 years. Given the important role birds play in forest ecosystem functions via seed dispersal and pollination, a bird community's response to forest restoration is an important measure of the success of such conservation actions. We evaluated the bird response to reforestation at an important bird sanctuary, Hakalau Forest National Wildlife Refuge, Hawai′i Island, using 26 years of bird count data. We show that most species from within the diverse avian community increased significantly, but species colonized the restoration forest at different rates. Distance from intact forest and time since restoration were both important predictors of colonization rate, interacting such that for most species it took more time to colonize areas farther from the intact forest. In addition, both forest cover and understory diversity helped to explain bird densities, but the effect varied among species, suggesting that different habitat requirements may help drive variation in colonization rates. This article provides the first detailed evaluation of how a diverse community of birds has responded to one of the largest, ongoing reforestation projects in Hawai′i.
Read the full 2017 paper here: Rapid colonization of a Hawaiian restoration forest by a diverse avian community
MISSION STATEMENT AND GOALS
The mission of the Friends of Hakalau Forest (FOHF) is to support the U.S. Fish and Wildlife Service's efforts at the Hakalau and Kona Forest Units in terms of preserving, protecting and restoring the biological diversity at both locations, while simultaneously providing opportunity for wildlife-dependent recreation such as birding or photography, education, cultural experiences and scientific research.
Our goals are to:
Foster public understanding, enjoyment and conservation of the natural and cultural resources of the Hakalau Forest National Wildlife Refuge
Provide volunteer assistance on important Refuge projects
Work with elected officials in support of the Refuge mission
Raise funds to help support the purposes and goals of the Refuge